---
June 3, 2018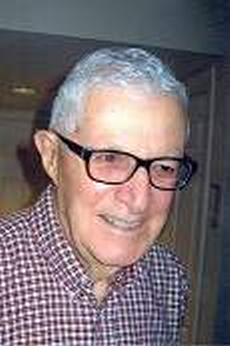 Joseph James Lawler, 97, of South Yarmouth (formerly Eastham) passed peacefully at home on June 3, 2018. He was the loving husband of Sally Gincel Lawler.

Mr. Lawler was born on June 3, 1921, in NY, NY and grew up in Scarsdale, NY. He was a member of Bronxville High School class of 1939. He attended Furman University in Greenville, SC and graduated with a BS in 1943 and later earned his Masters in Education from Colombia University. He proudly served his country in the Army Medical Department in the Pacific Theater from January '44- April '46 and remained in the reserves until 1952. Mr. Lawler was the Assistant Director of Safety Services for the Westchester County chapter of the American Red Cross: 1947-1955. He passionately taught biology at John Jay High School in Katonah, NY from 1955-1962 at which point he became the Assistant principal. He was principal of John Jay Jr. High School from 1966-1980. He was a member of Rotary International in Katonah and continued that work with the Nauset-Orleans chapter. He proudly received the Paul Harris Fellow from Rotary International, was a president of the chapter, and Assistant District Governor of Dist 7950 Mr. Lawler was a volunteer naturalist at the Wellfleet Bay Wildlife Sanctuary for over 20 years. He enjoyed photography, music, boating, nature study, philanthropy, and being with friends and family.

Besides his wife, he is survived by his daughter Patricia Lawler-Evans and her husband, Jeffrey Evans, of E. Sandwich, MA , his granddaughter Laura Sylyea Evans and grandson-in-law, Bart Robello, of Buffalo, NY; three nephews and many grand-nieces and nephews.

His Celebration of Life will be held on Thursday, June 7, 2018 from 3 pm to 5 pm, in the Wellfleet Bay Wildlife Sanctuary, Wellfleet MA, remarks will begin at 3:30 pm. In lieu of flowers, it is Mr. Lawler's request that donations can be made to the Rotary Club of Nauset-Good Works Fund P.O. Box 1846, Orleans, MA 02653 OR Wellfleet Bay Wildlife Sanctuary PO Box 236 S. Wellfleet, MA 02663. For online condolences, please visit www.nickersonfunerals.com

Nickerson Funeral Home

508-255-0259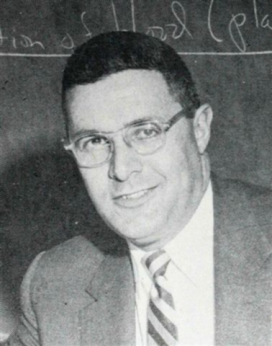 He changed my life, literally, and we were so very lucky to have him teach us for not just one, but three whole years.
-- Dixie Perry Todd Couldn't agree more! Between biology and sailing, I learned so much from him. Happy memories!
-- Jim Beardsley They just did not come any better!
-- Steve Oates This made memories come alive. He like Red Gibson were people with fabulous values and a passion for what they did - lessons for a life time. We were so fortunate to receive such qualities from our education.
-- Judy Elder Rogers Great to see so many classmates responding - wish I could have attended his memorial service today. Fortunately, I called him earlier this spring to see how he was doing. We had a nice long chat, including his fond memories of the Class of '62, and typical of Joe, all positive vibes despite dealing with some inconveniences associated with approaching the age of 97.
Joe and Mickey H. had the biggest impact on me during our student years at JJ - and it continued when I joined the JJ faculty family. In fact, Joe was the one who strongly suggested I consider education as a career, and then a year later called me and offered both Brenda and me a job - and the opportunity to come back home!
Needless to say, I'll miss him . . .
A great guy, and a good friend.
Hope all is well with everyone. Life is going very well down here in The Villages, FL - stop by and say hello.
-- Doug Bartel Joe had a way of communicating with people that was very special. He was the first person of authority who treated me like an adult. He actually wanted to hear what I had to say... when I was 16 or 17 years-old. He made me feel sure of myself, gave me confidence that I could be successful in whatever I chose to do, mentored me as student council president and gave guidance in a way that made me feel as if I had thought of it myself. He was a special teacher, leader and man. I knew nothing about his early childhood. How remarkable he later decided to be a "parent" to so many of us.
-- Art Fiacco
---
December 27, 2016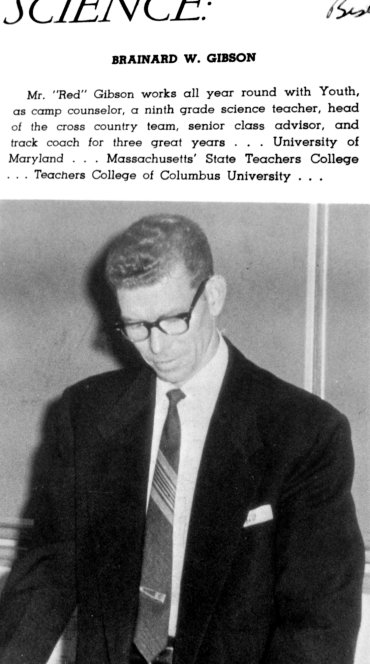 Brainard "Red" Gibson, a retired teacher who while in the Army served on President Eisenhower's Color Guard, died peacefully in his sleep on Dec. 27, 2016, at his home in Oneonta.

He was born May 10, 1930, in Inman, S.C., to Brainard Sr. and Alliene Hipp, the school principal and the English teacher.
As a schoolboy he worked as a custodian and bus driver, stoking the woodstoves early every morning before getting the bus started to pick up the other students.

He graduated from The University of South Carolina and received his master's in education from Columbia University.
A veteran, Red fought in the Korean War and served in Washington, D.C., as a member of Eisenhower's Color Guard and Sergeant of the Guards at the Tomb of the Unknown Soldier.

While stationed in D.C., he met Lorraine Gagne, who would be the love of his life for more than 60 years.
They settled in Westchester County, where Red taught science, coached multiple sports, and ran the AV department at John Jay High School. During the summers, Red also managed the Presbyterian Camp and Conference Center in Holmes, Dutchess County, a position he took full time once he retired from teaching.

As a teacher, and at the camp, he was a respected and admired mentor to multiple generations of young people.
Red was an avid gardener, and known for his beautiful tenor voice. He and his wife Lorrie were very active in local theatre. After retiring to Maine, they worked as a song and dance team, creating dozens of shows and performing all over the state.
Red also served as Post Commander for Madison, Maine, VFW Post 7865.

As a widower, he moved to Oneonta to be near family. He continued to perform with his daughter, grandsons and extended family, tended a lush and productive patio garden, and got to spend time getting to know the newest member of the family, his great-granddaughter Amelia.

He is survived by his sister Anne, sons Leon and Ken, daughter Teresa, six grandchildren and four great-grandchildren. He will be deeply missed by all who knew him.

---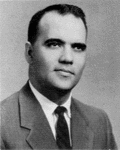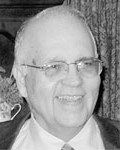 December 26, 2010
One of the most special teachers for many classes of John Jay students has died. Mr. Henriquez taught us well, treated us kindly, came to our reunions, wrote newspaper articles about us, gave us so much - after being an outstanding teacher, turned out to be a very good friend.

---











Class of 1963 Sixtieth Reunion
The JJHS Class of 1963 will be celebrating our 60th year class reunion in Danbury, Connecticut in mid-September of this year. If you guys might be interested in attending I will be glad to email you the details. Also, if you know of any other of your class members who might be interested in attending please send me their email addresses and I will be glad to share the details with them as well.

Richard (Chip the younger) Munk